Welcome to BearingNet - you are now part of the world's largest online marketplace for bearing and power transmission distributors.
BearingNet contains many features and lots of information but for now we will concentrate on the main functions. This summary will tell you what you need to know to get started...
Sending an RFQ
Once you have the search results with a list of companies who have the part you need you can send an RFQ to selected companies.
There are a number of ways to find out more information about the companies before sending the RFQ.
A key to all the symbols used on the search results screen is available by clicking on the question mark icon at the top of the table.

Clicking on the company name will take you to their company details page where you can find more information about the company, if you need a quick summary of their contact information click on the company details icon.

Once you have decided who you want to send an RFQ to, tick the RFQ box next to the company you want to send an RFQ to (you can select multiple companies), fill out the inquiry box that will appear at the top of the results table and send your inquiries.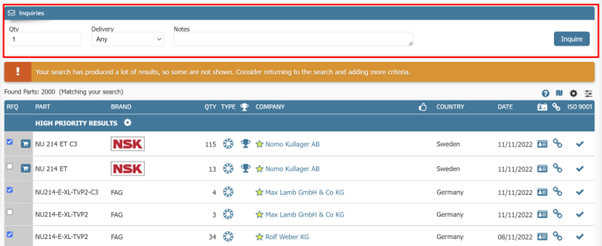 Wanted
If you cannot find the part you need via the search function you can also use the 'Wanted' page to advertise what you need. Just click on 'Add', enter the information in the 'Add Wanted Item' box and click OK. If another distributor has what you need they will contact you directly.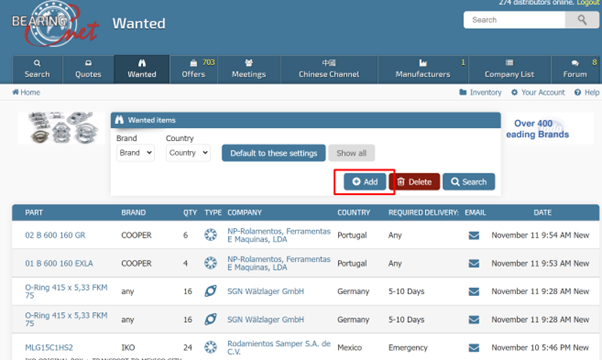 Selling
BearingNet can help you to sell your inventory by putting it in front of 1800+ distributor companies. If you list more than 500 lines your free trial period will be extended to 28 days. To load your inventory in BearingNet for the first time please send your stock list to stock@bearingnet.net in an excel spreadsheet and include the following columns:
Part Number
Brand
Quantity
Description (this is optional and is used for extra technical information you want to include about the part)
You can also download our stock template which will be pre-formatted for you. Log in to BearingNet, go to 'Inventory' and click 'Download you inventory file' which will be sent to the email address associated to your BearingNet account.


Offers
If you have a 'lot for sale' or some special offers you wish to advertise you can enter these in the 'Offers' section. Just click on the 'Add' button, enter the information in the 'Add Offer' box and click OK. If another distributor is interested, they will contact you directly.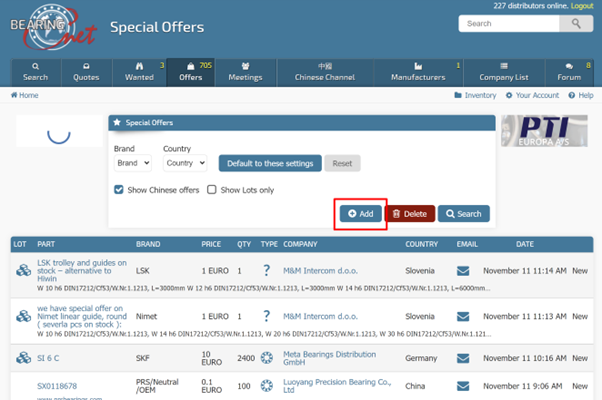 Your Account

This section is where you can manage your company's information, add users and set your preferences.
The basic contact information provided with your free trial application will be recorded in 'Your Account'. If you wish to amend any of this or add additional information you can do this here. (You cannot change your company name or the country where you are based. If you need to do this please contact support@bearingnet.net)
Check your company details are correct, you can edit your contact details from this page you can also add additional contact information here
Add more users—If more than one person in your company is using BearingNet you can set them up with their own login details. You can do this in the 'Manage Your Users' section
Upload your company logo so other users can recognize your company, it will appear every time your company details page is viewed, go to 'Change company logo'